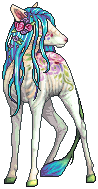 It was a cooler day in the swamp, frost had decorated the tips of grasses and leaves in the morning, and though the sun had banished it away, the air was still crisp and cool. Born couldn't see their breath fogging in the air, of the dance of it across the ponds and bogs lining a familiar path. They were blind to the visual splendors of nature, but the rest? The rest they appreciated. The subtle decay of fallen leaves, the lack of growing things and flowers. The bird song was quieter, most departing for warmer weather. The world was dying, freezing, stilling.
Born hummed to themselves, a little smile playing over their muzzle. A mindless little tune playing through their mind. Certainly they weren't paying attention, mind wandering.
They snapped back into focus as their feet sank into something cold, wet, and thick. They gasped, jerked a foot free, and when it came down it sank a little deeper. "Oh.." They tried again, tried to retreat, but without being able to see it was easy to get turned around, to sink deeper into black mud.
They've been calm at first, not fully aware of the potential danger. Now they were not, breathing hard, clearly distressed. Mud clinging to bright fur and brighter hair as they gasped and huffed, trying to pull themselves free.
@kuro