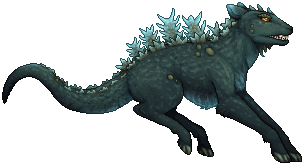 Destroy All Monsters lived a very simple life. There was a lot of eating, sleeping and wanton destruction. The world he had been born into was very breakable for someone as large as he and nothing was more satisfying than crunching, stomping and knocking over anything that got in his way.
He had also discovered, very recently (IC'ly a least lol), that he had a love of fishing. Of course he'd always enjoyed swimming and chomping on fish but it wasn't until he was casually showing up other kin with just how many he could catch, that he realised just how fun it was.
He hadn't caught the
most
but that was because he found himself sluggish in the cold and after devouring that many fish he would often nap for a day or so. But now that the winter market was over and there was no longer a reason to be there, Destroy All Monsters was heading back to the ocean.
There were plenty more fish to terrorize there.
And so along he went, knocking over anything that had the misfortune of being in front of where he was walking.