1
« on: December 11, 2020, 10:14:29 PM »
Starlight Sand
[My Name] [My Family]
=Currently CLOSED to breedings=
"The moon will never steer me wrong!"
A diminutive Acha with seemingly boundless energy, Starlight Sand is friendly to all she meets. She is clearly new to the swamp, constantly curious about what is around her and more than willing to pelt anyone with questions. Her greatest loyalty is to her two older sisters, but maybe she's a little too dependent on them...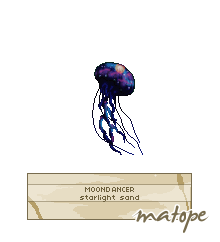 Moondancer is a luminous little jellyfish that Starlight Sand met soon after she reached Matope. While it isn't so intelligent, Starlight Sand lavishes it with affection and loves to dance and sing with her amorphous and ethereal new friend.