1
« on: December 01, 2019, 08:14:40 PM »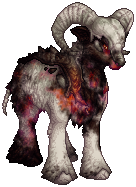 Burns-with-Rage was always prepared. In fact you could almost say he was over-prepared.
The little grove he lived in he had begun compulsively clearing of dry leaves the moment the grey clouds appeared on the horizon. Dead branches, he placed far by the wayside. While it probably wasn't going to be a thunderstorm, there was still the chance. And that chance was enough to make him nervous.
The cold didn't bother him at all- he was a Totoma, after all. Even with some of his coat never growing back in, he still had plenty of fur to keep him insulated. But... This dry weather in the winter made it even easier for the leaf litter on the ground to catch fire, and well... That would be it, wouldn't it?
Of course, his grove was well and already scorched. Even after this long, the trees hadn't totally recovered. That made it a bit less likely to catch on fire again, but... Still, he ought to be careful. He may have survived last time, but there was no guarantee this time he would be so lucky.
So, wandering through the grove, it was
strikingly
barren. Not only were the trees charred black, without any leaves or downed branches, it looked almost... ghostly. Like nothing had lived there in years.
@Moonstone Dazzle