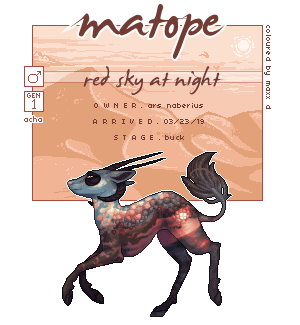 There were no trees nor mountains to block his sight; no earth nor rock beneath his hooves.
Only an ocean that stretched infinitely in all directions,
And a sun that sunk sank slowly, deliberately,
Casting off brilliant colors as it fell.
Before it settled, at last, on a red sky at night.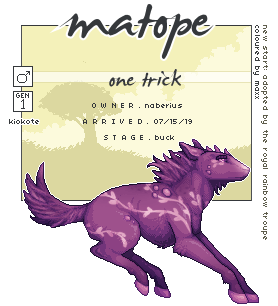 He is alone.
(if you do not count the sea of life before him;
Acha, Kimeti, Kiokote, Totoma, Zikwa,
Of every colour, every shape, every age)

He has been performing for hours.
The audience is silent.
Waiting.
Someone, far in the back, whispers,
"He must have more than one trick, surely?"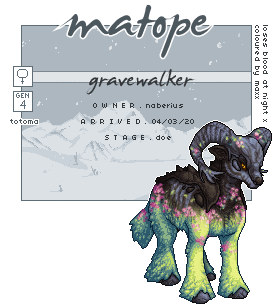 (https://matope-swamp.com/ol/kin/view/gravewalker)





Even as a lamb she found herself prone to pacing the plot of land where the dead lay, returning to her mother and father with seemingly unending questions about who was interred there and why. With time the place became a comfort to her - the dead happened to be excellent listeners - so she began to care for it in return, assisting with burials and maintaining the grounds.


[ will be written out as a Whole Thing eventually ]